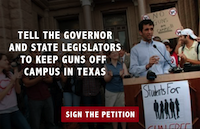 Texas Senate Bill 11 (Sen. Birdwell) and House Bill 937 (Rep. Fletcher) are before the state legislature. This legislation would expand the carrying of loaded, concealed handguns on campus to buildings, libraries, and other places once restricted.
We believe that Texas' higher education officials and campus police are most qualified to determine the safety requirements for their campuses. Contact Governor Abbott and your state legislators now to tell them to keep guns off campus >>
Recently, UT System Chancellor and four-star admiral William McRaven stated in opposition to the bills, "There is great concern that the presence of handguns, even if limited to licensed individuals age 21 or older" will make campuses "less-safe."
On February 1st, the Texas Association of College and University Police Administrators spoke out against the bill, noting that there are "too many uncertainties" of college life.
If you believe, like we do, that our colleges should be places of learning, not for carrying weapons, please contact the Governor and your State Legislators, TODAY. Tell them that you don't want guns on campus.