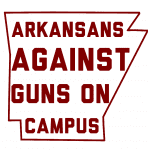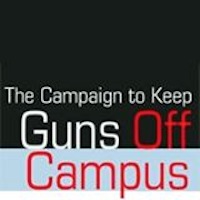 For Immediate Release:
Arkansas' Colleges Reject Law Permitting Armed Faculty on Campus
Groups Applaud Decision by Governing Boards to Opt out of Law for Second Consecutive Year
---
October 1, 2014 (Fayetteville, AR). For the second consecutive year, governing boards of Arkansas' universities, colleges, and technical institutes voted unanimously to prohibit carrying of guns on their campuses statewide. Act 226 was authorized in March 2013 to permit faculty and staff with valid Arkansas Concealed Handgun Licenses to carry their loaded, concealed weapons on campus. However, the law permits institutional governing boards to vote annually to opt out of the law and continue prohibiting guns on campus. To date, no institutions in Arkansas have chosen to implement Act 226.
This decision represents a major victory, once again, for common sense regarding the bearing of arms on our school campuses in the state of Arkansas. Excluding Arkansas, seven other states have been forced to permit the carrying of firearms on their premises in some form, including Utah and Idaho, where two recent incidents of negligent shootings have occurred on campus in the past month. First, by a teacher in an elementary school restroom in Utah, and second, by a professor in an occupied classroom at Idaho State University. In each instance, rather than protecting life and property, these teachers wounded themselves.
One of the faculty leaders opposing guns on campus at the University of Arkansas stated, "I am very pleased to learn that, for the 2nd consecutive year, the governing boards of every college statewide chose to continue the long-standing prohibition of lethal weapons on campus. It shows our governing boards understand that our colleges are not magnets for murderers, but sanctuaries from them." Dr. Stephen K. Boss, Professor of Environmental Dynamics and Sustainability, University of Arkansas.
Sidney Burris, Professor, Department of English, University of Arkansas, also said, "Our Board of Trustees is convinced that guns on our college campuses is an unwise policy because once again, they have unanimously voted against it. Our faculty, staff, and students can claim a substantial victory here, but so too can our parents, whose first concern is for the safety of their children."
Andy Pelosi, director of The Campaign to Keep Guns off Campus added, "Today, we applaud the wise decisions of all the Arkansas' governing boards for their conviction and dedication to providing safe campus environments for students, faculty and staff. We call on state legislatures around the country to identify ways to reduce risk to people on campus – not increase it by allowing the presence of loaded, concealed weapons."
About Arkansans Against Guns On Campus: AAGCis a grassroots organization of 1,000 members (students, faculty, staff, alumni, mothers, fathers, sisters, and brothers) opposed to firearms on college campuses and K-12 schools. Follow us on Facebook at www.facebook.com/ArkansansAgainstGunsOnCampus or Twitter at @UAAgainstCarry. To learn more about the history of activism by faculty and students in opposing Act 226, visit Professor Burris' Gunsense blog http://readwrite.typepad.com/
About The Campaign to Keep Guns off Campus.The Campaign was founded in 2008 to urge colleges and universities to oppose the gun lobby's agenda to push concealed handguns onto college campuses. To date, the American Association of State Colleges and Universities (AASCU) and more than 365 colleges and universities in 41 states have joined the Campaign. For more information or to get involved, visit www.keepgunsoffcampus.org. Follow us on Facebook at www.facebook.com/KeepGunsoffCampus or Twitter at @KeepGunsoffCamp
# # #
Media Contacts:
Andy Pelosi, The Campaign to Keep Guns off Campus : [email protected]
Arkansans Against Guns On Campus
Facebook/ArkansansAgainstGunsOnCampus